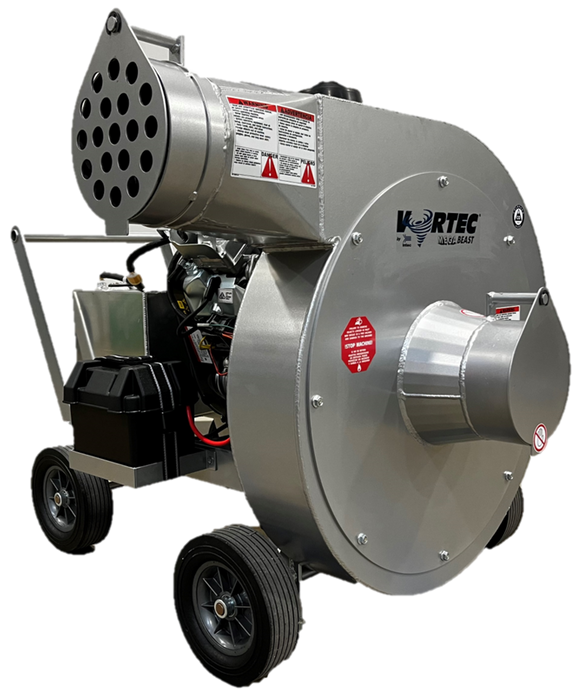 Intec Vortec 74000 MEGA Beast High Powered Vacuums
Original price
$11,750.00
-
Original price
$11,750.00
Intec Vortec 74000 MEGA Beast High Powered Vacuums
VORTEC MEGA Beast - not for sale in CA
POWERED by VANGUARD 35hp V-Twin, oversized Abrasive Resistant (AR) thick steel impeller, 25" impeller, 8" intake with 8" discharge, thick gauge steel with 1/4" thick AR Steel impeller housing to increase vacuum life. Cooling air inlet debris filter, run-flat tires, 8 gal gas tank. Warranty: Vanguard 3 year; Intec 1 year.
Exceptionally High Production
Over 2X of VORTEC Beast
25" Impeller
35hp Vanguard commercial motor
8" Inlet & Outlet
Easy to move with weight balanced design
8 gallon tank for long running times
Brake System
Features
35hp V-Twin electric start w/ 3 year Vanguard warranty

Oversized shaft
Commercial-grade air filter
Cooling inlet air filter to reduce maintenance
Abrasive resistant steel construction to increase value:

shroud in wear areas
impeller
Specifications
Body: Powder-coated steel with 10" run-flat wheels.
Weight: 474 lbs.
Inlet: " standard. 6" optional.
Outlet: 8".
Motor: Electric start Vanguard 35hp V-Twin.
Oil Alert system shuts motor when oil is low to prevent
engine damage.
Fuel: 8 gallon gas tank.
Impeller: 25" diameter 1⁄4" thick abrasive resistant steel.
Shroud – 1⁄4" thick abrasive resistant in main wear area.
Brochure