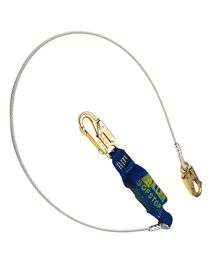 Miller 850K/UBL Lightweight/Comfort Welding Harnesses
Original price
$316.89
-
Original price
$316.89
Miller 850K/UBL Lightweight/Comfort Welding Harnesses
Friction buckle shoulder straps, and mating buckle chest and leg straps - universal
FALL PROTECTION FOR WELDING ENVIRONMENTS
Fall protection products designed to meet the challenges of welding environments. Available in Lightweight/Comfort and Heavy-Duty Harness models: Miller welding products also include a variety of connecting devices and anchorage connectors.

Lightweight/Comfort Welder Harness
A complete line of lightweight: comfort welder harnesses features blue: flame-retardant Nomex webbing to protect against weld splatter. The special inner Kevlar® core adds strength and high-temperature resistance. Contrasting webbing colors make inspection easier.

Heavy-Duty Welder Harness
Designed with rugged black Kevlar webbing to withstand harsh welding environments. Meets ASTM F887 Arc Test requirements and are rated for arc exposure. All models feature quick-connect buckles on the chest strap for easy/fast donning.


Features

Rated to 400 lbs. (181.4 kg) capacity when using a SofStop shock absorber (940K)