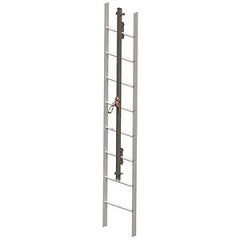 Miller GG0150 GlideLoc 150 Ft. Galvanized Ladder Climbing System Kit (Rail)
Original price
$4,357.29
-
Original price
$4,357.29
Miller GG0150 GlideLoc 150 Ft. Galvanized Ladder Climbing System Kit (Rail)

The Miller GG0150 GlideLoc Vertical Height Ladder Climbing System Kit provides you with innovative solutions for ladder climbing that requires very minimal maintenance, is easy to use, & provides unsurpassed safety.
The easy to climb GlideLoc Fall Arrest System provides you with hands free fall safety at height which ultimately improves worker productivity, safety and mobility.

Innovative design keeps your hands free for easy climbing
Engineered to operate smoothly for descending /ascending
Easy to install DIY do it yourself kit
Rugged construction for increased service life
Accommodate multiple workers
Systems are customizable for your specific applications using additional components which include: Integrated Shock Absorbing Element for Miller GlideLoc Ladder Climbing Fall Arrset System
Larger ladder rung brackets
Ladder side rail brackets
Foldable foot rest for longer ladders
Device for shaft entry provides easy manhole and roof hatch access
Perfect for your permanent ladder application

Turbines / Wind Power
Utilities
Telecommunications
Industrial Facilities
Platforms / Drilling Rigs
Crane Installation
Shipbuilding
Confined Space
Features
The Miller GlideLoc Fall Arrester immediately locks into the safety rail when a fall occurs.
All GlideLoc Arrester models offer:
Quiet and smooth trailing action on the rail gives you an easy comfortable climb
Automatic design frees both your hands for safer climbing
Catch clamp made from stainless steel immediately locks into the safety rail during a fall event
Shock absorbing integrated safety mechanism greatly reduces the force on workers and the system during a fall event
Fall indicator lets you know if the product needs to be removed from service
Integrated swivel, automatic locking carabiner aids with trailing alignment & meets allowable attachment length
Innovative design helps you avoid upside down installation ensuring climber's safety
No need to lean back when climbing, reduces fatigue, perfect for confined spaces and ladder cages
Ergonomic design for easy 1 handed installations
GlideLoc Climbing Systems Include:

GlideLoc safety rail
Ladder attachment brackets
Gated end stop - top
Gated end stop - bottom
Hardware
Systems can accommodate 1 worker per rail section