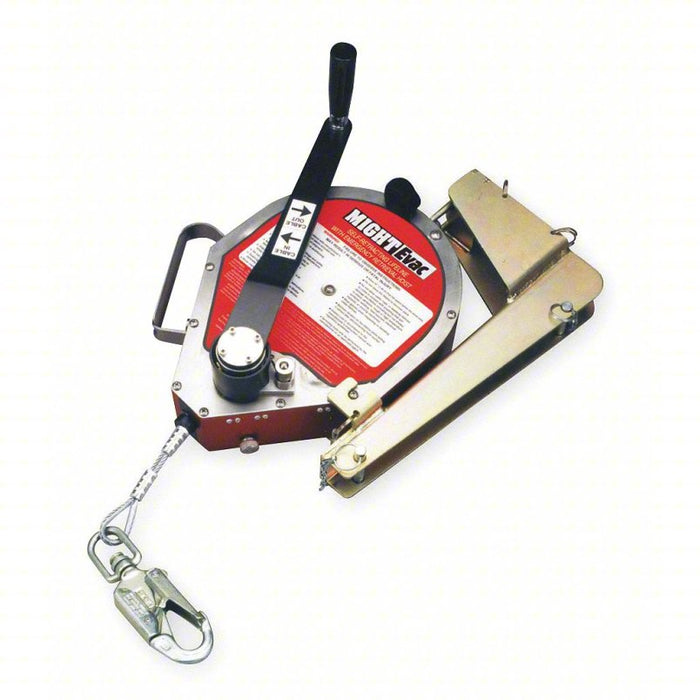 Miller MR100GC-Z7/100FT MightEvac Self-Retracting Lifeline
Original price
$10,775.77
-
Original price
$10,775.77
Miller MR100GC-Z7/100FT MightEvac Self-Retracting Lifeline
Miller MightEvac Confined Space System includes MightEvac w/ 100-ft. of 3/16-in. galvanized wire rope and 7-ft. (2 m) tripod with mounting bracket. Includes connectors with 3,600-lb. rated gates.
WITH EMERGENCY RETRIEVAL HOIST
The Miller MightEvac combines the performance and reliability of the best-selling MightyLite Self-Retracting Lifeline Series with a quick-activating retrieval mechanism for emergency evacuation.

Lightweight
20% lighter than competitive models provides significant long-term savings and lowers cost of ownership.

Reliable
Its durable design was built with corrosion-resistant stainless steel and aluminum components to provide a longer lifecycle.

Complete Confined Space Kits available.


Features & Benefits:
No annual factory recertification required* – Significant long-term savings/lower cost of ownership (*Does not apply to Canada due to CSA Z259.2.2-98 requirements. Must be inspected by a Miller authorized service center if involved in a fall or if fails user visual or function inspection)
Promotes quick and easy rescue with a 4:1 mechanical advantage (average speed of 25-ft. [7.6 m] per minute)
310 lb. (1.4kN) weight capacity
For emergency evacuation only
Convenient: heavy-duty carrying handle
Available in galvanized or stainless steel wire rope and Kevlar rope in lengths of 50-ft. (15 m): 100-ft. (30 m) and 130-ft. (40 m): or Kevlar rope models in lengths of 40-ft. (12.2 m) SKU MR40K/40FT: and 80-ft. (24.4 m) SKU MR80K/80FT