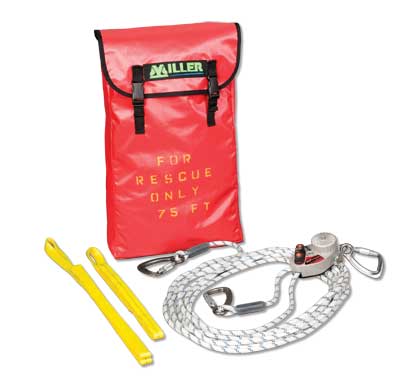 Miller SE/175FT SafEscape Elite RDD Rescue and Descent Device 175ft
Original price
$1,888.90
-
Original price
$1,888.90
Miller SE/175FT SafEscape Elite RDD Rescue and Descent Device 175ft
The Miller SafEscape Elite Rescue and Descent Device (RDD) is the global solution for rescue - descent device that meets all applicable safety standards all over the world, enhances safety, lowers cost of ownership, and is extremely easy to use.

It can accommodate one or two users simultaneously, on multiple descents. Units with the optional hoisting wheel can be used to raise personnel from lower levels to a safe location above. This equipment is designed for use on wind turbines in the growing Wind Energy market, Construction and Maintenance -- as well as offshore and landbased oil drilling rigs, utility pole and tower construction/maintenance, construction tower cranes, fire and emergency rescue services, and many other applications where there is a need to rescue or evacuate personnel working at heights.


The Miller SafEscape ELITE RDD is not a fall arresting device. It may not be used to lift or lower materials.

SE/175FT Includes

SafEscape ELITE RDD - 175 foot length
Anchor slings
Rescue bag
Features
Enhances Safety
User-Rated for Up to Two (2) Workers – Designed for self-rescue, it gives a capability for more users to evacuate in a short period of time
Approved for Multiple Descents – Multiple descents permit the evacuation of multiple workers
Easy to Use
Bi-Directional Design – As a descent is initiated, the other end of the rope is ascending readying itself for another rescue
Up to 1640-ft. (500 m) Lifeline Descent Capacity – Provides greater flexibility to address changing environments and ever-increasing height requirements
Lightweight and Compact Design – Palm-size design makes handling the Miller SafEscape ELITE RDD easier during emergencies
Durable – Aluminum and stainless steel constructionOptional Hoisting Wheel and/or Ladder Bracket Available
Hoisting wheel provides increased flexibility to help facilitate a variety of rescue situations
Specially-designed modular ladder bracket can be easily installed and removed based upon changing application needs or emergency requirements

Miller SafEscape ELITE RDD Kits


Wind Energy Kit - Kit includes Miller SafEscape ELITE RDD with hoisting wheel and ladder bracket, T-bar, edge protector, 3 anchor slings, 3 carabiners, pulley, adjustable rope anchor, rescue rope grab, accessory bag and kit bag. SEWPKT/75FT*
Humidity-Resistant Storage Case - Kit includes Miller humidity-resistant storage case, Miller SafEscape ELITE RDD, hoisting wheel, ladder bracket, T-bar, edge protector, three anchor slings, three carabiners, pulley, adjustable rope anchor and rescue rope grab. SEWPKTC/300FT*
Crane Rescue Kit - Kit includes Miller SafEscape ELITE RDD, rescue harness, cross-arm strap, retrieval yoke and rescue bag. SECRKT/75FT*