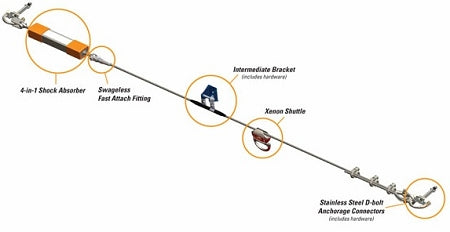 Miller X00510 510 Ft. Xenon Permanent Horizontal Life Line Kit Fall Protection
Original price
$8,326.29
-
Original price
$8,326.29
Miller X00510 510 Ft. Xenon Permanent Horizontal Life Line Kit Fall Protection
Stainless Steel System Kit 510-ft. system; 15 intermediate brackets; two (2) stainless steel D-bolt anchorage connectors; swageless fast-attach fitting; anchor shackle; thimble; cable clips; hardware.
FOR MULTIPLE WORKERS
Xenon Permanent Horizontal Lifeline Kits provide automatic pass-through fall protection for multiple workers that increase worker mobility: safety and productivity. For use along crane rail runways: loading bays/docks: conveyors: rooftops: pipe racks: bridges and many other applications.

Easy To Install
Xenon kits provide do-it-yourself installation and feature patented stainless steel components that are easy-to-use and require minimal maintenance.

Better Systems by Design
In addition to meeting all applicable global standards for safety at height: all components of Xenon kits are designed for versatility: reliability and comfort.
Features
Xenon Shuttle

Adaptable design– For smooth pass-through of intermediate brackets
Double-locking mechanism– Ensures security: yet allows for easy: one-hand operation
Fixed pass-through parts – The shuttle is ideal for dusty: gritty or salty environments
4-in-1 Shock Absorber

Innovative 4-in-1 design– Serves as shock absorber: turnbuckle: tension indicator and fall indicator
Pop-out visual indicator – Alerts the user to any load impact on the system
Compact design – Allows for a shorter distance to the end brackets: providing greater safety for entry and exit of the system
Users can gauge and adjust tension easily
Universal Intermediate Brackets

Automatic pass-through design – Allows for smooth passage of the Xenon shuttle providing 100% connection to the system
Simple installation–Single-bolt design and easy-to-remove cable holder guide simplifies installation and maintenance
Flexibility – In the event of a load impact or fall: individual brackets can be replaced without disassembling or replacing the original wire rope
Maximum Versatility - Available in adjustable or fixed position styles
Durable design

Stainless steel 5/16-in. (8 mm) wire rope
Stainless steel: swageless fittings for quick: easy installation
Stainless steel D-bolt anchorage connectors rated to 10:000 lbs. (45kN)