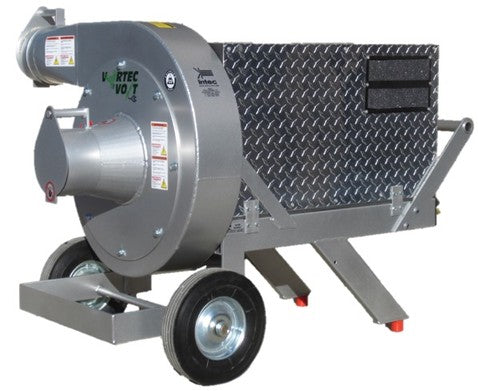 Used Intec Vortec 74220 VOLT Electric Powered Vacuum
Original price
$5,642.00
-
Original price
$5,642.00
Used Intec Vortec 74220 VOLT Electric Powered Vacuum
VORTEC VOLT 220 - ELECTRIC Powered by a single dryer outlet (220V - 30amp circuit) with VFD to limit amperage intake (prevents tripping of the circuit) and converts input to 3 phase power. 5hp, 6" inlet & outlet, thick gauge steel with 1/4" abrasive-resistant (AR) steel curved section of shroud & oversized AR steel impeller, industry-first breakaway coupler, quiet & powerful, run-flat tires, highly portable. 1 yr warranty.
Intec's VORTEC family of high-powered vacuums offer high productivity with robust engineering to provide the highest value vacuum in today's market. Gas or Electric –we got you covered.

The VORTEC VOLT 220 is quiet, exhausts no fumes, and can be powered by a single dryer outlet. The VOLT 220 vacuum provides for profitable HVAC cleaning, recycling of spray applied insulation, removal of damaged insulation due to fire, water, and smoke, lawn & garden cleanup … the uses and markets are endless!
Features
Thick gauge steel construction with 2X thickness abrasive resistant steel in wear areas.
Sealed motor area with inlet & outlet filters keeps dust out of engine compartment.
Handle provides for great lift points and ease of movement.
Easy to use controls simplify operation.
Instructions remind operators of key maintenance items.
Run Flat tires.
Pivoting inlet & outlet gates promote safe operation.
Optional dryer plug conversion enables use of 3 or 4 prong dryer receptacles for a power source.
Intec Exclusive Hub Assembly with break-away coupler provides higher power transfer, longer engine life, and better system weight balance!
Specifications
Body: Powder-coated steel with 10" run-flat wheels.
Weight: 310 lbs (141kg).
Inlet & Outlet: 6" diameter standard.
Power Cord: 50' of 10/3 power cord standard.
Motor: Powered by one 220V –30amp circuit.
Fuel: Electricity.

Large Fan wheel on independent bearing supported shaft with break-away coupler –prolongs engine life & provides for efficient power transfer from the engine to the impeller. Extra thick shroud –2X thick abrasion resistant steel in main wear area.

Warranty: 1 year limited.
Product Resources